Awkward
I like people. This isn't a lie, but I wouldn't admit it in public. Someone might get the wrong idea. That I'm social and charming, but this is almost never the case. I'm too nervous and I fidget and I'm a complete mess inside, besides, I never know how to fit in with strangers so I mostly just sits there. Quiet. Alone. But even so, it's nothing personal. I just can't relate to people I don't have anything in common with and if I don't know you, your interests just won't exist. Not really. Because how can they?
But you can say "hi" and I'll appreciate it, breaking the ice has never been my forté. There's always water underneath. Dark, cold water ready to drown you. If others break the ice, then I can stand there on the shore and be safe and dry. Hopefully you'll find some of the things I say funny and not insulting. I really gets uncomfortable when people do that face when I say somthing I find funny. Like I'm an idiot and should drop dead, preferably somewhere else than on their living room carpet. "But you can joke about anything!" I'd argue, but they mostly don't agree. "Not about that," they'd say looking like I'd groped their dead cousin at a wake. Some people…
Anyway. I take photos, and draw, and watch TV-series, and listen to This American Life. I tries to make music too, but apart from writing lyrics I'm not that good and to my big regret I can't really sing at all. So I mostly just listen to others efforts. Yes, I'm that Nicklas. "Hi."
I don't drink that much coffee anymore. The odd cup at home and then lots of tea. Today though, it feels as if I had one cup too many. Of coffee. A stupid idea, but really, I think it might have some foundation in reality.
re: the coffee
While we sat there, suddenly the room was filled with all these people. Neither of us knew where they came from, the room, previously nearly empty was full. People couldn't sit, they had to stand by the walls. And then we heard it.
The Christmas songs. Elsewhere in the room three people dressed in Santa outfits sang Christmas songs. One looked deeply ashamed, one played the accordion like a man not possessed but with a feeling anyway. The girl though. She looked possessed. By the Christmas spirit or drugs, I don't know. But she was scary. It will haunt my dreams, and let me tell you, I don't need them more haunted. I got haunted up to my neck.
I just wanna go back to the blue room…
Had a bit of tea and talked music, it was rather nice. In other news: I needed new glasses. In two weeks or so I'll look different in the face area.
It's a bit too warm I think. The snow melts slowly and drips from the branches of the trees. Calatch. Calatch. I managed to avoid getting some  in my head. However, as the minutes stacked up like legos and the light crept back to hide under a dark blue blanket, the dripping began to stop. So I guess it's colder now. Again.
Still, I probably should have gotten out a bit sooner though, but then the lights wouldn't have been on.
Frida Hyvönen in the mp3-player, terrificv music. So it was rather pleasant and nice and calming anyway.
So after a while I always withdraw and leave the room. (This is me not figuring out how to start and tries to begin in the middle. It failed. Let's try that again.)
Christmas. You can tell it's that week already. Not because of the lights in the streets, the blinged up trees or the decorations in the windows — professional windows or amateur windows, the tramp-lamps are all the same. No. It's that from now until a few days after new year's eve, I feel kind of astray. Even though, like on Christmas Day, when there are lots of relatives around I feel lost, I don't fit in. At all. It might be something wrong with me, but after a while I always withdraw and leave the room, letting the relatives and family take care of themselves. Laughing. Having fun.
The solitude isn't really a choice, even though it might seem like it. But if I can help it, I'd rather choose to be alone by myself than in the company of others. It's more proper somehow, and not so sad and pathetic. It is by far the most harrowing time of the year, but I don't dislike Christmas and I like the snow (when we have some that is, give me snow! This is Sweden for fuck sake, polar bears in the streets and penguins eating the babies and all that). So it's not Christmas' fault, even though it tries a bit too hard sometimes. I can't even blame the people, so it must be me. Some mental flaw — or a defect if you will, a horrible mutation — that makes me bored, alone and miserable with a calendar precision that's downright uncanny. As they say in the X-Files promos: "I want to believe." Believe that it might not happen the next year or that it will pass like a flu. But that seems more and more unlikley. So it must be me.
A slightly more upbeat thing: here's an old drawing of a snowman.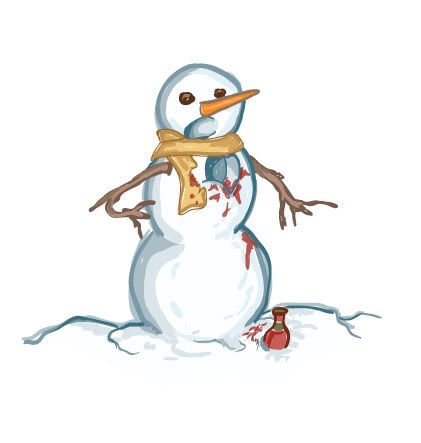 1st January 2008 was spent with friends and having fun. This year, I was alone, pretty miserable and… Bah, I don't want to complain. Especially since it's up to me and in most cases me alone to fix it. It's my pieces to pick up and glue and duct tape.
Anyway. 2009. This year I'll find a job, and move and spend more time with those that matters — if they want me too, I'm still not entirely sure on that always. And starting this weekend or so, I'll be back to no julmust and go out for walks more often. Need to find new gloves, preferably like those Mareen have, as it's getting pretty cold now.
(Music: Rachelle Van Zanten – January)
What the hell. I can do this too. It's content right? And text? And a handful of peeps on my dashboard has already done it so…
Things you probably don't know about me. Part 1 of 16.
When I was a kid, really small one and quite young, I had LEGOs. Lots and lots and lots of LEGOs — I think I have forgiven my parents for giving it all away. One of the things I loved doing even before my brother was born was to make swords and fight. The loser was the one who's sword shattered first.
Later me and my brother did the same thing. Only we where a bit more savage than me as a three year-old and my father. We tried to make the best design, reinforce parts of the swords that broke the last time and make the other one drop the sword. Because by then, you could continue fighting even if parts of it was on the floor. Hell, if you could withstand the pain of someone hitting your hand with a lump of hard plastic, you could win if the other one chickened out.
I still to this day want to make swords in LEGO, big ass swords, and a large-scale Godzilla stomping a plastic Tokyo. But I got none left.
Things you probably don't know about me. Part 2 of 16.
I have a problem remembering names. Faces isn't a problem although the context might be slipping, which doesn't help at all because it's so much harder to try and remember who this might be.
Anyways. This not knowing means I make up nicknames for people in my head so that I can pin-point them easier. Some of these gets used properly, others… It might be that after a short while I discover that the nickname just doesn't fit — hopefully before I've said it out loud. It is then removed as an index for that person, as an unfitting nickname is rather useless.
But the thing is this: I don't throw away and forget them. I store them in my head, without much problem for some reason, and they lie there dormant and awaits getting attached. They're orphans, and they need a home. Maybe not now, but some day. Considering point 14 in this, they'll probably starve to death.
Things you probably don't know about me. Part 3 of 16.
I like socks. Probably more than you do. I'm not entirely sure how it started but my feet get rather cold during the winter. That at the ability to slide and get the orange juice. These things are important damnit. Sock-gliding should be an Olympic sport. So much better than skating as you can do it without being dressed like a cock. You can slide just as well wearing a comfy and awesome knitted sweater.
But yeah, I like socks, and I get happy when I recieve a pair or two as a gift. It's not that I'm afraid of feet, but really, the toes? Not good aesthetically.
I've even got plans on devising a way to keep the floor cold during the summers (pipes under the floor connected to a central air-kind of thing?). So that even while it's hot and such, it is still possible to wear socks inside without the sweat and downside of warm feet.
Things you probably don't know about me. Part 4 of 16.
A sign that I'm getting a bit drunkish is that my nose gets numb and cold and tingles. This could had been a great way of notifing me of "whoa there, take it a bit easy with the beer'n'whisky" if it wasn't for the fact the it never really happens at the same level.
There have been times when the numbness occured after half a beer and there have been other when it happend after… let's call it an heroic amount and leave it at that. Not a great signal.
Things you probably don't know about me. Part 5 of 16.
I can't watch bad TV. Seriously. Yesterday someone I know watched a bad show and commented it with "it's really bad. So bad I got exhausted just by watching", and I can't do that. When I try my mind gets odd and restless, I need to do other things instead: make a fanzine or whatever. Maybe even sort the dvd-shelf according to some stupid order, let's just hypothetically say world premiere date. My point is this: bad shows on the television and I don't mix.
The odd thing though is that bad movies I can do fine. Really fine. I can even love them and I can sit there hooked for hours. I love the movie Hudson Hawk for fuck sake. Honest to your God. Own it on dvd.
So what is it that make me unable to watch even a few minutes of a bad show that's over in 45 minutes but keep me spellbound if it's going to take an hour and a half? Don't know. A chemical imbalance? A rare form of allergies? Perhaps I'm just whacked in the head.
Things you probably don't know about me. Part 6 of 16.
There are people who are amazing on making mixtapes/cds/whatever (mix LPs, that's what I want to see). They take time and the end result is you sitting there, mouth agape, the music ringing in the ears and your brain splattered across the wall because the selection and order is so mind-blowingly good. Me? I'm decent. I got another card up my sleeve.
The booklets are my kind of thing. Thick and lots of text and images, some tied together with string, others made like a giant jigsaw puzzle. While I take time to choose songs and order — because you have to, it's the law — it's nothing when measured in time I take with making the booklet. Especially when dealing with mix cds, without a proper booklet, what's the big deal? It is too easy. This way, it's adds a difficulty level when choosing songs, there has to be something I can write about. I have to think and be articulate about what otherwise might had been intuitive
And besides, I love booklets with bought cds as well. Really love them. So I always get saddened when it's just a small paper with song titles and copyrights. Fuck that. Give me texts! Give me stories! Give me photos! So there's no way I could do that to anyone, no matter how much longer it might take to get finished because I'm too lazy.
Things you probably don't know about me. Part 7 of 16.
This is Roger at a camping last year. While most of the others went swimming, I stood fully dressed at the beach and kept myself at a safe distance.
I was the last in my class to learn how to swim, so I'm not good at it. Not that it matters really, as even a bathtub makes me uneasy. Seas and the ocean? Almost freak-out inducing just standing there on the shore. Walking across a bridge makes me nervous and I got nightmares about driving a car and skiding down into the water. Yes, I got some serious issues.
Most of them probably have origins from school. I used to be happy and talkative and really outgoing — at least that's how I remember it. Then came school and I got pretty deep scars. Crappy self-esteem, withdrawn, quiet, alone. But I'm not really afraid of getting beat up so it's always something.
Things you probably don't know about me. Part 8 of 16.
This is somewhat connected to point four, but only in the sense that it's about the same bodypart. Yeah, the nose. Have you seen the shows M*A*S*H or Firefly? Sorry. Of course you have, you're not stupid. I share a tick with the characters Hawkeye and Jayne: I smell things. The scene in the episode The Message where Jayne gets mail and he looks at the box from all sides and sniffs the edges? I'm like that.
Be it food, drinks, people (easiest when giving them a hug, otherwise it might seem a bit… creepy), records, clothes, books — oh dear lord, books! The smell of a used bookshop, I can walk around in a bliss for hours. Pulling out books to inhale the dusty and old scent of pulp and feel the text on the pages with my fingers.
This is not always a good thing. The cans with spice is not too good to inhale. The peppers. I don't think I need to describe that, do I? You know what I'm talking about. I smell the tea leafs as well as the tea. I inhale deeply when I have the long scarf around my neck.